I'm so excited to share what I've been working on the past week!
I've been dying to make something for myself for the last month or so, but wanted to wait for the right project before I just started on whatever without really putting thought into it. We have a business conference coming up in a few weeks, so in the back of my mind I was thinking it would be really nice to have something new, but after looking through my stash of fabric and patterns nothing was quite business enough. But then 2 weeks ago I was kidnapped by a good friend (who must have known I needed a few hours alone) and taken to Hancock fabrics where we took our time looking through the patterns and having some good girl talk!
I love dresses, but don't wear them much because I'm always nursing a little one and to do that in a dress is usually impossible! If we're at church I have to go to the bathroom and get completely undressed and then dressed again, so it's just not worth it to me at this time of my life :o)
So when I saw this pattern with buttons down the front I was so excited!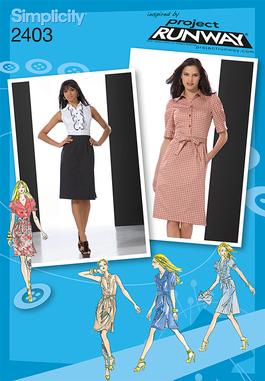 The excitement was also in part because all Simplicity patterns were on sale for $1.00 !!!
That totally cuts the cost of what you're sewing! I love that there are so many variations that can be created by changing the collar and sleeve combination. I already have plans for a second one with the short sleeves and a ruffle down the front ( bottom right on pattern).
After our girl-talking and pattern-looking we hit a 80% off remnant pile. I found 1 1/8 yard of this pretty, slightly shiny navy blue, and after the 80% off got it for $1.50!
Once I added the notions and zipper my total was a BIG $6. I love when that happens! Sometimes it seems like you get something pretty cheap but then end up needing all these extra things that bring the cost up more than you had planned. So for not even planning on a dress beforehand I really did good! I told Tim that I "SAVED" soooo much on the dress that I thought is was completely reasonable for me to get a new pair of shoes to go with it :o). He said he was glad I thought so :o(. But it turns out I happened to find some blue heels for $7, and I also had some mothers' day shopping money waiting for a special skirt but didn't think $7 would cut into that to much, so I did get new shoes to match!!!! :o)
Happy me!
The pleats are so pretty and feminine, and I love the pocket and waistband done in a contrasting fabric (stolen from the leftovers of my mom's dress :o) ).
Pockets are always needed when you have little boys handing you weird things all the time!
This pattern was very easy to follow and fits perfectly! I didn't change anything. Its sizing chart is right on, and that's not always the case for patterns (or clothes in general for that matter). I've said before that I line everything. Well this time I didn't, but I made my first slip cut on the bias. I was going to line the skirt part of the dress, but then thought if I make a slip I can wear it under any dress and skip that extra step in the future. For skirts I prefer to have lining sewn into it already so there aren't any more layers to be pulling on or that get turned and twisted when you sit and stand, but for a dress I don't mind a slip underneath. So for my birthday my mother-in-law Donna had given me a gift card to Hobby Lobby, so off we went with that thought in the back of my mind, and I saw in the remnant pile (you've got to love those!) a yard of cream satin for $2. So I grabbed it and went home to see if I could find a pattern for a slip in my stash. At first I was thinking I could use a tank top and make it longer or a bias cut skirt and put a top on it, but then I found this in some of my mom's stuff and...
PERFECT I have a new slip!
It was way easier to make than I was expecting, and I think if I see some more satin sometime in black or even navy I'll make another one.
So I'll leave you with the dress one more time.
Not bad for my first collar.
And a close-up of the sleeve (or non-sleeve :o) ).
I couldn't be happier and can't wait to wear it next weekend!!!